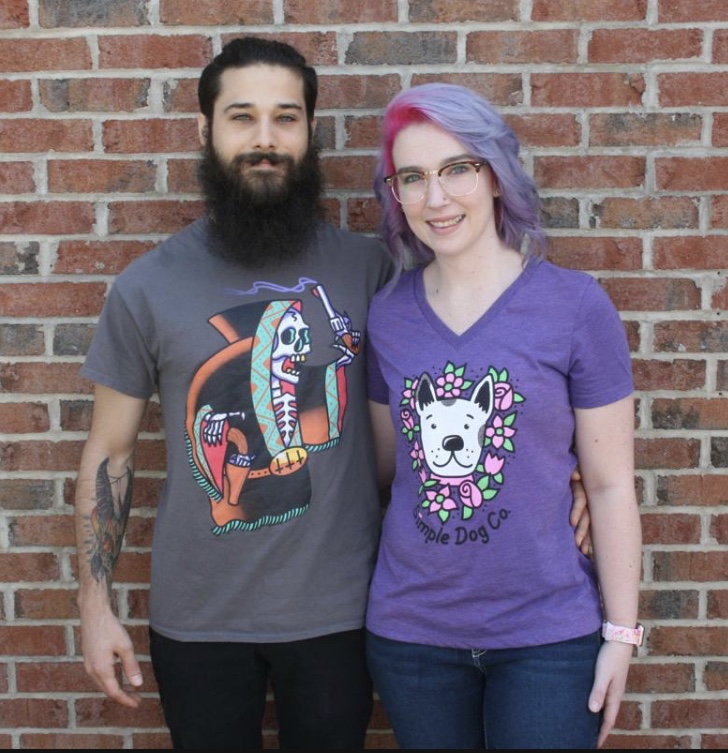 Simple Dog Co. was created to make a difference for pets in need. We knew right away that we wanted to donate 10% of each item we sold to local non-profit rescues. We create everything by hand, from our hand-drawn designs on our apparel to our items for you pets!

We only carry premium clothing so that you get the best quality out of your purchase, and will always keep the clients satisfaction as our priority.
All designs are hand-drawn by Artist, Derick Dove and screen-printed on Bella+Canvas apparel in order to achieve the highest quality possible. All items for your pets are hand-made by our co-owner, Danielle Simmons.
About our Artist/Co-Owner: Derick Dove

Derick is a very talented artist. He spends his work week as a Tattoo Artist in Sanford, NC. During his down time he likes to draw or paint anything from scenic views to cartoon style drawings, like the simple dog. He is very Pro-Animal Rights, and is a dedicated vegan. He wants to give back to the animal community any way he can.
About our Co-Owner: Danielle Simmons
Danielle is the face behind the computer, and creator of all our items for your pets! She spends her work week as a dog groomer at our Simple Dog Co. Pet Spa in Sanford, NC. During her spare time she works on getting the brand name out there, sews, loves to hang out with her 7 ogs, and fosters pets in need on the regular. She is also Pro-Animal Rights and vegan. Derick is her Fiance, and they created the idea of the simple dog together.
We truly appreciate your support of a small family-owned business!